Suffering from a skin condition is very annoying, not only aesthetically, since it can also be very painful for those who suffer from it. In the case of rosacea you have to learn to live with her since it is a disease that today It has no cure.
Recently we have seen some familiar faces of our national panorama as Dani Martín or Paula Vázquez They have shown their skin through Instagram with signs of rosacea. Outside our borders we also have examples of celebrities such as Sofia Vergara, Cameron Diaz, Bill clinton or Prince Harry. If you also think you have rosacea, here we tell you what you can do to Improve the appearance of your skin.
What is rosacea?
Rosacea is a chronic inflammatory skin disease that develops outbreaks. You will recognize her by him redness that causes on the skin and for the pimples that appear similar to those of acne (it is often confused with adult acne). You can also see dilated blood vessels (couperose) and who suffers usually has a itching sensation With heat and burning.
It usually appears in the central area of ​​the face, the chin, nose, forehead and cheeks, the eyes can also suffer (it is called ocular rosacea) but it is not usual.
What are the causes of rosacea?
Most cases are detected between the ages of 30 and 50, but there have also been cases in children or the elderly. The skins more clear and thin They are the most likely to suffer from rosacea, which does not mean that other skin types such as brunettes can not get it.
Another factor is the hereditary So there are people who may be more likely to have rosacea if there is a family history beforehand.
Although the cause of rosacea is still unknown in principle it could be due to the combination of hereditary and environmental factors as the Dr. Salleras, Dermatologist and director of the Salleras Dermatological Clinic in Barcelona.
"His appearance is related to genetic factors, and also environmental, such as wind, cold, outdoor exercise, sun exposure… All of them cause vasodilation of the facial circulation (known as facial erythema). This 'opening' and later 'closing' of the capillaries and venules of the face, leaves a certain permanent vasodilation, which does not recover, and which is the origin of the skin with redness and tendency to redness ".
How to fight it?
The first step is to put yourself in the hands of a specialist and he will value in which phase is rosacea (erythema, couperose or acne rosacea) because depending on the phase the treatment will also be different.
Such treatment may range from the most basic ones such as creams to soothe the skin before the burning sensation, to antibiotics or resort to Pulsed light to correct facial redness and eliminate couperose.
Avoid too hot foods and drinks or foods that may be vasodilators such as spicy or alcohol. It is important to consider what we eat and maintain a good intestinal flora to avoid outbreaks of rosacea, as several studies show that the intestine is closely related to skin problems, advising the use of probiotics to improve this problem.
Another of the enemies of rosacea are temperature changes, especially in winter, which is when they tend to be more constant between the cold of the street and the heating of the premises.
Of course, aggressive treatments such as scrubs, exfoliations or dermabrasions and even the hot baths or the saunas. And only use specific products for this type of skin that calm and do not contain any ingredient that can irritate or trigger an outbreak.
Products for skin with rosacea
A skin with rosacea is also a very sensitive and reactive skin, so for your care you need specific products that contain specific active ingredients to treat this type of skin and that are highly respectful with it.
What kind of skin you need is a routine that follows the least is more and products that calm her down, lower redness and relieve tension and itching, without forgetting to keep it protected from any weather.
Avène Thermal Water: This product is soothing, anti-irritant and desensitizing, it can be used after cleaning or at any time to refresh. A must for sensitive or rosacea skin. Price 11.80 euros.
Micellar water Sensibio Bioderma: To remove makeup or clean effectively and respecting the skin, micellar waters are great. The most adored of Bioderma. Price 13.95 euros.
BIODERMA Sensibio H2O Micellar Solution Sensitive Skin 500 ml
La Roche Posay Rosaliac UV Rica, nourishing and moisturizing cream with rich texture, suitable for red and sensitive skin. Price 20.65 euros.
Roche-Posay ROSALIAC UV TEXTURE RICH MOISTURIZING ANTIROJECES AND DRY SKIN 40ML LA ROCHE POSAY
Darphin Intral Redness Repair Balm: This product is specific to soothe and reduce redness, provides nutrition and comfort to the most dry and sensitive skin. Price 55.95 euros.
Leti SR Sensitive Skin Anti-Redness Serum: Its formula is concentrated and restorative, helping to improve redness and protecting the wall from microcapillaries. Price 39.55 euros.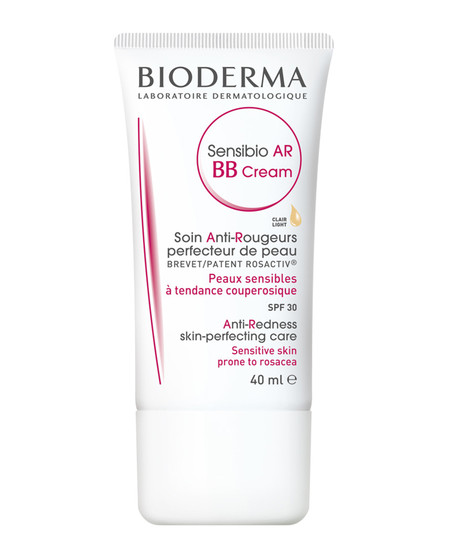 AR BB Cream SPF30: This BB Cream attenuates, prevents and conceals redness. Price 21.65 euros.
Photos | Pull & Bear, Massimo Dutti