Nude colors, powdered roses, cherries, browns, muted reds: these are the shades of the fall season to make up our lips. And we love them. But we can go further with the effects and textures. After all, the queen of makeup lips, Kylie Jenner, He has left us that uncontrollable desire for full, perfect lips, which look like an exquisitely drawn, structured and seamless painting. Semi matte powder or soft shine and mousse format, it is the proposal of the two collections that it presents Lipstick Queen to make it.
The lipstick brand Lipstick Queen It is well known among makeup experts for its intense pigments and extraordinary coverage and durability. But it also has a wonderful evolution and is always proposing different products and is a true precursor of trends. For example, not long ago he launched very similar Moroccan-style lipsticks that look green or purple, but whose pigments are pink and natural. With the advantages that they are very moisturizing, safe and quality. Not like those found in the markets of the African country that have no guarantees (as much as we like them).
That's why you always have to be attentive to the news of Lipstick Queen This fall, the most impressive and that with which in the writing we have all said: wow! (and what we are used to receiving from everything), It is its new powder texture. The collection that brings it is Velvet Lip Powder And it comes in four shades. The intensity of the color is wonderful, the coverage too, but especially the velvet effect is surprising. The texture and softness of the lips are also impressive.
There are two light nude pink tones, another medium and a pink, but dark brown.
How does it apply? The product it is sprinkled on the lips, after having hydrated well, and touches are being made to cover everything. The finish is flexible, comfortable. The sensation when touching the lips is very surprising and super soft. It has the disadvantage that care must be taken so that no dust falls on the face, under the lip. But once you know that, the result is cinema. And the fixation and durability is impressive. You have to finish removing makeup with balm or make-up remover.
His other seasonal collection Velvet Lip Mousse attracts less attention because it does not surprise you so much, but it is more interesting because of its creaminess, which makes it very comfortable, and the color, more spacious and wonderful. Again, its pigments are very intense and with a very subtle shine. Super soft texture, of course. The application is like a mousse cream, but there is no paint layer effect. It also lasts a long time and does not crack.
In its color range we find three nude roses different too, but also three cherry tones, a caramel pink and two dark cherry tones and a warm red.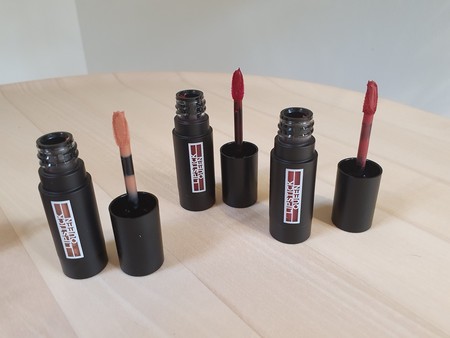 Where to find Lipstick Queen lipsticks?
They are not the easiest lipsticks to find, especially this latest collection. You can find it in the Abanuc stores and see all its collections on the web .. You also have in Sephora if you want to buy their collections online, but its Velvet Lip powder collection, we have only found online at Look Fantastic. Now the hard part is deciding on a color, Because they are all beautiful. The prices are not very high (about 23 euros), but they are not low cost either. To the younger ones we recommend a nude pink color and make up many eyes with a very deep stripe and a lot of mascara, brown and beige tones or hot and risky roses. And those who are not old, we can get a dark cherry or red that are ideal for this fall 2019.