Invasion, pandemic or extreme trend: We do not know how to call what is happening around the pink color (fuchsia). Many have cataloged it as the tonality of millennial, But the truth is that he falls in love with all kinds of audiences of all ages. On the catwalk, during red carpets of this 2019, at street style or in clothes low cost: he fuchsia rose is everywhere And we have the proof. Have you already fallen into temptation?
Invasion on the catwalks
To know if a trend is going to succeed or not, we have to look at the collections seen on the catwalks around the world. From the Spring-Summer 2019 proposals presented last year, to those of this season, designers such as Jacquemus, Dundas or Chanel have shown that fuchsia pink is perfect for day-to-day and / or special occasions.
The red carpets are dressed in this colorful shade
The red carpets of this 2019 have dressed in this striking and original color. While he was the favorite of the MET Gala 2019, during the Emmy the pink-red combination triumphed more (although we also saw celebrities wear dresses of only one color).
The street stylers Do not hesitate to wear pink clothes (fuchsia)
Yes, fuchsia pink triumphs, so much that the street style It has fallen on the networks of this tone with such personality. In total look, combining it with other colors or small brushstrokes, pink becomes the real protagonist.
The stores low cost They are filled with new products
If you have not yet succumbed to its charms, this season you have a new opportunity: the signatures low cost Do not hesitate to launch designs in this color as a total protagonist.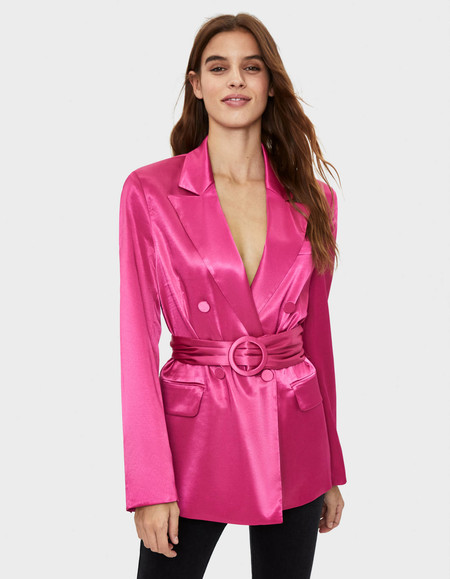 Bershka satin blazer with belt, 39.99 euros.
Zara V-neck dress with puffed long sleeves, 59.95 euros.
Pleated Mango dress, 49.99 euros.
Short halter dress by H&M, 44.99 euros.
Bershka two-color blazer dress, 39.99 euros.
Short dress with V-neck and thin straps from Zara, 22.95 euros.
Photos | IMaxTree, Gtres, Zara, Bershka, H&M, Mango